Healing Properties of Clear Quartz
A Crystal Message about the Healing Properties of Clear Quartz: "Feel your mind expand with clarity as I help you tune in and become one with the world around you."
Common Healing Properties of Clear Quartz:
Powerful for energizing the physical and energetic bodies
Assists with healing the physical, mental, emotional, and spiritual bodies
Purifies and cleanses the physical and energetic bodies
Amplifies your intentions for manifesting and co-creating with the universe
Assists you with any kind of spiritual work

Promotes mental clarity

Amplifies energy in crystal layouts or grids

Enhances your inner vision and intuition

Balances and aligns the chakra centers
Protects you energetically
Zodiac Signs: Leo, Virgo, Aries
Elements: Air, Water, Fire
Companion Flowers: Trillium
Companion Essential Oil: Tea Tree
Common Origins: Madagascar, Brazil, Arkansas (USA), India
Notes: Also known as Rock Crystal.  The ancient Romans thought Quartz crystals were made from ice that was so frozen it would never thaw or melt.
Wanna' Get Science-y? Click Here to get information about the chemical composition, hardness, streak, etc. of this crystal from one of my favorite sites!
Cathy Douglas, from my new age shop Mimosa Books & Gifts, had this to share:
Quartz is a common and abundant mineral that comes in a variety of colors and forms. The stone we usually call quartz is clear rock crystal. This is quartz without visible impurities, which naturally forms into a brilliant six-sided prism, coming to a point at the end. It's an oxide of silicon, and therefore a semiconductor. People have been drawn to quartz for literally millennia, using it for tools, jewelry, containers and works of art. Metaphysical references from the Romans and earlier identified quartz as permanently frozen ice. It is composed of SiO2.
Metaphysical uses: Clear quartz naturally amplifies energy. It wants to clean and purify everything in its path, including all the body's chakras, as well as other items in the physical and spiritual worlds. One of the best ways to experience the power of a quartz crystal in everyday life is to use it to help amplify personal intentions — decide what you want, and use your crystal to magnify your intention until it manifests. (As always, do this in such a way that your intention remains focused on the greatest good, not simply short-term desires.)  Quartz wands are especially powerful when used this way. Clear quartz also has excellent spiritual qualities.
Learn to use crystals with POWERFUL Crystal Affirmations!
Summary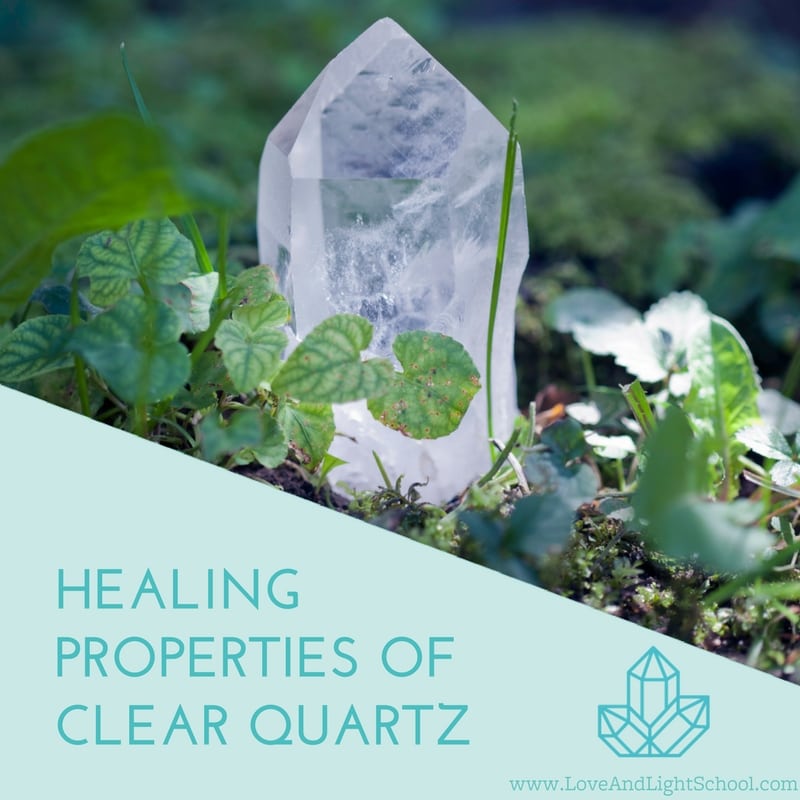 Article Name
Healing Properties of Clear Quartz
Description
It's time to start harnessing the abundant and powerful healing properties of clear quartz. This amazing stone can help to bring mental clarity, enhance your connection with the world around you, and amplify your intuition and inner vision.
Author
Publisher Name
Love & Light School of Crystal Therapy
Publisher Logo